How to Make a Detox Juice at Home?
How to Make a Detox Juice at Home?
A detox allows you to rid yourself of the addictive power of sugar, flour and hyper-processed, hyper-tasty food-like substances. The easiest way to detoxify your body is to drink homemade detox juices. So, how to make detox juice at home? Here is how easy it is: plugin the blender jar, put in desired ingredients and blend until smooth. Drink and enjoy. In this article, I will share with you three detox juice recipes, but before we continue with the recipes, we need to learn why detoxification is important.
Why Is Detoxification Important?
Living in big cities surrounded by pollution, constant contact with chemicals and the consumption of processed foods have led to our bodies being full of toxins that prevent them from functioning properly. For this reason, it is recommended to take steps to detoxify the body at regular intervals.
Detoxifying smoothies are made from a mixture of fruits, vegetables, and greens. They are used as an aid to combat obesity, acne, or problems with water retention, and also to cleanse the body of people who consume soft drinks, alcohol, cigarettes, or chemical processed foods daily.
Here are 3 recipes to make detox juice at home that are easy and quick to prepare.
1) Pineapple and Ginger Detox Smoothie for Weight Loss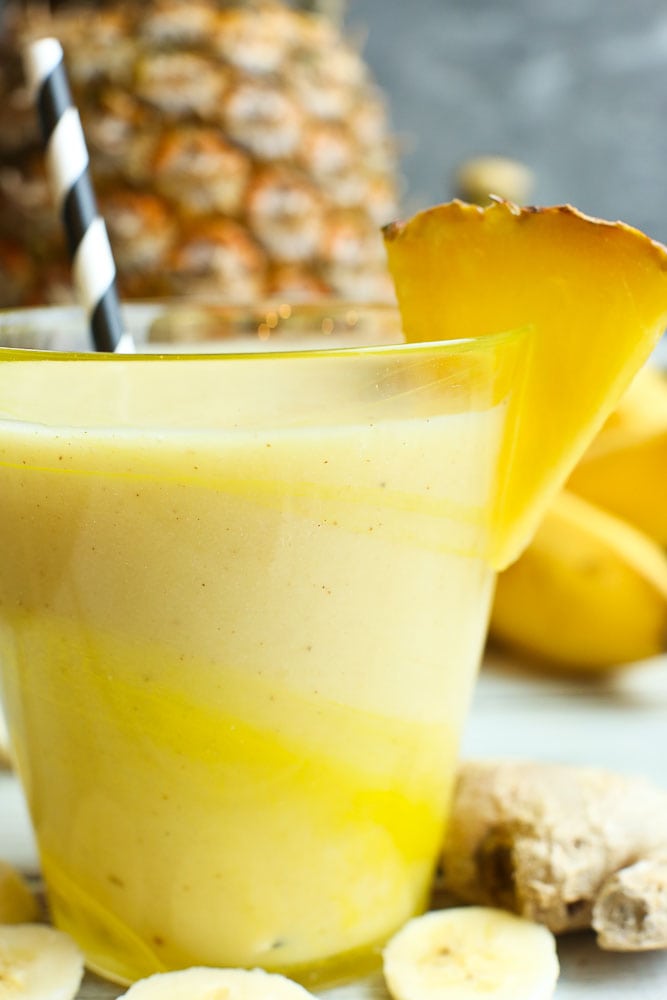 Ingredients:
4-5 slices of natural pineapple.
1/2 cup rice drink
1 teaspoon grated ginger.
Preparation:
It is as easy as put all the ingredients in the blender and blend it well until it takes a form of smoothie. If you do not have rice drink, you can make it yourself. Just put water or milk in the blender with some boiled rice and blend it until it is completely dissolved. Add this drink to the blender with the other ingredients and blend well. Your detox juice is ready. Enjoy!
Benefits of this juice: 
Pineapple has anti-inflammatory, detoxifying and diuretic properties, so it will help you eliminate the fluid stored in the body. Ginger speeds up metabolism and boosts fat burning. It also helps fight stress, combat cellular aging and relieve migraines.
2) Purifying and Antioxidant Green Juice
Ingredients:
5 cm of celery.
1 cucumber.
1 bowl of fresh spinach
Juice of 1 lemon
1 teaspoon grated ginger
1 tablespoon chopped parsley
3 green apples
Preparation:
Clean all the vegetables and fruits. Cut them and put them in a blender with a little amount of water, then add the lemon juice and grated ginger. Blend well until it gets smooth. It's ready, enjoy!
Note: If you think the mixture is very thick, use a strainer to clarify it a bit and make it easier to drink.
Benefits of this juice:
This juice is full of vitamins and minerals, which makes it a perfect antioxidant for your body. Moreover, thanks to the properties of its ingredients, it will oxygenate the blood, regulate intestinal activity and provide you with energy.
3) Blueberry and Red Fruit Smoothie—My Favorite Detox Juice
Ingredients:
1 cup blueberries
1 cup fresh red fruit (to taste: red berries, apple, strawberry, watermelon, etc.)
Juice of 1 lemon
1/2 cup Coconut water
Preparation:
Put all the ingredients in a blender and blend until you get a smooth texture as your detox juice should look like. Take it cold or at room temperature, you will surely enjoy it.
Benefits of this juice:
This detox juice will help you strengthen your immune system, which will protect you from seasonal colds, urinary tract infections and the proliferation of bacteria in your body. It is also an excellent antioxidant that delays the aging of the body.
I hope you will enjoy making and drinking these easy to make detox juices at home.
Important Note:
If you suffer from diabetes, kidney, liver or other health problems, I recommend you consult your doctor before taking these detox drinks.
~~~
For more works by this author see Misbah Sheikh on The Creative Exiles.
https://www.creativeexiles.com/author/misbahsheikh/
You can also find works by Misbah Shiekh on Hubpages.
https://hubpages.com/@misbah786
You can also find works by Misbah Shiekh on Medium.
https://misbah786.medium.com/
Latest posts by Misbah Sheikh
(see all)