Somewhere on a Southwest U.S. Mountain Ridge
Somewhere on a Southwest U.S. Mountain Ridge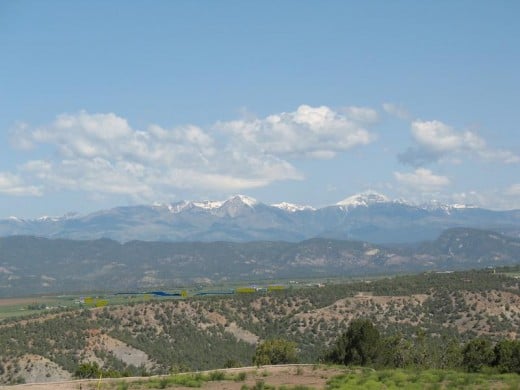 Come Along With Me…On a Journey Where There Is No Time…
Alone…I looked up towards the sky…
There is where time…did not pass me by.
On a Southwest Mountain Ridge…Somewhere far remote…in the U.S.A.
Time stood still…where I had one perfect and endless day.
The Clouds danced above me…in grand design…
For once my thoughts all cleared…and took a vacation from my mind.
A Hawk rode the breeze of the wind currents below…
And I saw the beginning and end of time there…in that valley…I know.
The old hollow tree in the ground a ways…stands as a marker for that place…
I watched it fade away on that day…'til it withered away without a trace.
In the distance I could hear the waves of the Ocean beat across the land…
Time had stood still for me…I sat to enjoy the spectacle…as a fortunate man.
Blue was the sky above me…like a topaz jewel…
For once I knew nothing of worldly events…as I sat on a rock…like a care-free driftin' fool.
The brown Grasshopper nearby…and the lone Cliff Swallow chimed out a song…
That went quietly out with the wind…and out to the sea…and went on and on and on.
A Timber Rattler came and sat with me…. we both enjoyed the view…
We both gazed over to watch a flower on a nearby cactus bloom…opening to the world anew.
A Desert Salamander came over and put his arm over the shoulder of that Ol' Snake…
They sat together…peacefully there with me…and not a blink did either of their eyes make.
A stubby-legged Tarantula walked over my foot in the sand…which usually freaks me out to no end…
I reached down and picked him up…petted his furry back…Then said, "Hang with us a while, my friend".
Then as I went to set that big Ol' brown spider down…
A Wolf came up…and sat near my side…Next to me on the ground.
He wagged his tail…like we had known each other for years…
I reached out to pat his head and tugged at both his ears.
There came a still breeze that stopped…and cooled each of our heads from the Sun…
We watched all kinds of animals all around…make a path through rock and brush…one by one.
Shadows crawled and moved about…amongst things and all around…
A Grizzly and an Antelope appeared…then moved to higher ground.
Mountain Stream Trout swam down there in the valley…which I could easily see…
Flipping their tails on top of the water…Looked like they were waving up to me.
I peered out from the mountain and saw a mighty Conquistador…lead out his men
across a sand-blown trail…
Gold was in all their eyes…no dreams of turning back…only of finding Fortune without fail.
I turned behind me toward the East…and saw a Nation rising from Pilgrims…made up of Colonies.
Then, I saw them go to War against their Ruler…Fighting over each man's Rights and Liberties.
I saw a great tall Indian…standing with his hands held high…on a lone peak…
I saw settlers roll by in wagon trains which slowly moved…I heard each wooden wheel squeak.
Men came on horses next…Some stopped to hunt…Most rode on to the edge of the Horizon…
Each one travelled out here with a dream…Each one travelled out here…all day under the Sun.
All around me territories formed…by Purchase, or by Battle, or by a Stake upon each Plot of Land…
I watched the Wild West around me…start turning into a place which became civilized by man.
A ribbon of track spread out…zigzagging up and down the countryside…in a moment of time…
A locomotive began to chug along that track…Then came telegraph, phone, and electric poles…Added to the line.
From the Ridge…I heard a thunderous War…from across the Atlantic Sea…
Man sure does War a lot…is the solemn thought…that occurred to me.
That War stopped and then before I knew it…another one had soon begun…
Then…some more went on in other places…each under the rays of the mid-day Sun.
I squinted my eyes for one short bit…
And saw men paving a trail…and making an Interstate out of it.
Planes began to fly overhead…Satellites could be seen above…further out in Space.
But, I never had to move to change my view…I could see it all from this place.
I turned back to look around…
And an atmosphere of confusion…was everywhere to be found.
People ran from here to there…
Things sped up…No one seemed to care.
Anger, Stress and Uneasiness…Started to rule the day…
Everyone was talking at once…but no one was listening to what each one had to say.
Then…a flash of light came red across the sky…
Skeletons were left in place…a terrible scene I saw…that showed millions die.
The Earth around the Ridge baked…Radiation soaked the atmosphere…
My friends and I all looked around…and wondered if anything more could happen here.
Slowly…Very Slowly…in a field far away…and almost completely out of my view…
Came a green blade of grass that stretched out…in time for the first drop of morning dew.
Bright new light came out…from high above and all around…
And cleared up the last of death…that was left in the ground.
We all looked to each other with joy in our eyes…
New things began to spring to life…Now here where nothing ever dies.
And on this Ridge…where we stayed and stayed…
Children soon danced in the fields below…and played and played.
People began to fill this place…Now for forever…There will never be any more years.
Men of Might put down their swords…and turned them all into plow shears.
Harmony and Music of Peace have filled this place with a brand new sound…
An Existence within a Creation made to enjoy…is what I now see all around.
Time has sat still here on this Mountain…with me…and with each animal friend…
Here in a quiet place among the Clouds…I know this "Timeless" Story…will never end.
~~~
Steve Walters -joined TCE in the Fall of 2021. Keep an eye on his author page for many great works to come.
https://www.creativeexiles.com/author/stevew/
You can also find works by Steve Walters (who uses the pen name of ManlyPoetryMan) on:  ManlyPoetryMan on HubPages.
https://hubpages.com/@manlypoetryman
And on Manly Poetry Man's website: Home | Manly Poetry Man
Latest posts by Steve Walters
(see all)