Explore Nevada: The Black Rock Desert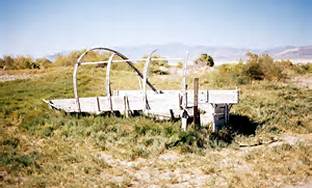 Empire, Gerlach and Bruno's Country Club
1
First a woman stood on a small hill of sage located on her new two acre plot of land.  She just finished signing the paperwork that morning and the trailer and the land was hers.  Second she tipped her hat to the Gypsum Mine where her husband started working and sat down on a boulder to watch the sunset.
Nevada is a place of dreams.  Two hours Northeast of Reno Nevada on Interstate 80 a traveler will eventually find Empire Nevada.  Scenery along the way consists of sagebrush covered rolling hills with Indian Taco stands as you leave each small pocket of native population.
2
Miles and miles of desert terrain, built from granite and sandstone carved into canyon home for Pinion.  Empire, Nevada, a ghost town since 2011, started as a tent city in the 20's when its first Gypsum Mine opened.
First a rough town, mostly Gypsum Miners who worked for The Gypsum Mining Company and then Empire Mining, with a population of seven hundred Miners during its peak in the 60's.  Second a company town, residents all worked for Empire Mining, that closed its doors after the Great Recession of 2009.
Therefore a few remaining residents were able to survive off of tourist money collected during an event called Burning Man where thousands of "Burners" travel through Empire on their way to the Black Rock Desert.
3
Her husband only spoke Basque yet fit right in at the mine.  Within five years she had quit her job working for the "Department of the Interior" after a lengthy tour. The roaring twenties found her leaving her place in D.C. and heading west were she met her husband and settled in Empire.
Gypsum provided her with more then enough to live and she had plans of starting a farm with some livestock.  Her husband seemed happy and they had their first child on the way.   Even during her pregnancy she would hike up into the desert surrounding Empire where she found boundless opportunities for exploration.
4
If you pass Empire you will enter into Gerlach Nevada and Bruno's Country Club where you can stop in for a drink and some food before heading North about twenty-five minutes to the entrance of The Black Rock Desert.
Gerlach, a short way downhill from Empire, is a town that survived.  Empire built itself around Gypsum Mining and Gerlach built itself around the railroad.  A Union Pacific switching station employs a handful of its residents and provides a small economy.
Though not quit considered a ghost town yet Gerlach still offers K-12, Washoe County School District, to its twelve or so children and a public library.
Gerlach provides sanctuary to many desert travelers from desert hunters to outdoor enthusiasts wanting to enjoy The Black Rock and its many hot springs.  Those who have traveled there and spent time in the desert wildlife nearby understand the importance of Bruno's Country Club.
Many have sat at the bar for drinks and involved themselves in incredible conversations with desert weary folk before heading to their rooms.
A good night sleep at Bruno's brings morning sun through curtains and after hearty breakfast at the restaurant preparations are made to move out onto the dry lake bed.
The Black Rock Desert
A vast desert of dried cracked earth from horizon to horizon that holds many secrets.
On August 15th 1849 James Fremont and Peter Lassen led a wagon train through this desert on what they considered a short cut to Oregon.
Fremont and Lassen decided that they could cross the desert in a shorter period of time then trying to move through the hills on either side.  The desert is tricky and cracked earth gives the illusion that the horizon is near.  This miscalculation by Fremont and Lassen led to tragedy along what would be called "The Death Route."  Hundreds of pioneers and their cattle perished due to lack of water and supplies.
When hiking through The Black Rock hikers can still see debris left by Fremont and Lassen's wagon train.  One of the wagons can still be seen near the North side of the desert by Double Hot Springs.
Isreal Russel, a geologist with the U.S Geological Survey, set out in 1881 to map the location of the ancient Lake Lahonton that at one time covered most of Nevada. During this expedition he found The Black Rock Desert and in 1882 this region was published in Russell's "Geological History of Lake Lahontan, a Quarternary lake of Northwestern Nevada."
Current Geological surveys show The Black Rock Desert at an elevation of 3,848 feet above sea level, which is hard to believe when looking out over miles of white dry alkaline earth.
Hot Springs of The Black Rock Desert
Hours after lounging in Trego the sky darkened as sun set behind a few tall Cattails.  Maybe it is time to stand up out of hot water and feel the chill in the air. One quickly dries off and runs to vehicle to turn on heater and ponder a perfect day spent in natural hot springs.
There are many naturally occurring hot springs in The Black Rock Desert area:
Trego Hot Springs – Trego Hot Springs are located directly across from the Twelve-Mile entrance. Once you enter at Twelve-Mile you will head directly East until you reach Trego. If you enter the Southeast Launch you will take a pick up road crossing the playa until you reach a railroad crossing. This is an active railroad crossing and care should be taken. Trego Hots Springs are man made springs big enough to swim in, but be careful it is HOT!  The GPS location is: 40N 46.200'/119W 06.780′
Black Rock Hot Springs – To reach Black Rock Hot Springs from Southeast Launch you head West until you reach a pick up road then travel North. Stay to the left until you reach the foot of the Black Rock Mountains.  Black Rock Hot Springs is a small round hot pool for those quiet romantic or solitary soaks.  The GPS location is: 40N 58.320'/119W 00.420′
Double Hot Springs – This Hot Spring is difficult to find and extremely dangerous due to scalding hot temperatures.
Burning Man
Last night the man burned and thousands of "Burners" ran towards a giant wooden man consumed in flame.  Family is found within the random works of art whether sitting in camping chairs and sharing stories with passing "burners" or enjoying a Chai at Center Camp while listening to live music and watching ribbon dancers dance high above.
Burn night brings family formed over the event together for an amazing night of flame and celebration.
Every year the week before Labor Day thousands of Burners travel through Reno to attend Burning Man.  Burning Man is a gathering to experiment with collective living, survival camping, and art in an area called Black Rock City.
Black Rock City is one of the largest cities in Nevada for the week that is built.  An amazing achievement to witness.
Larry Harvey created the experience in the Bay Area and moved to The Black Rock Desert a few years after the festival began in the 1980's.
The Black Rock Desert provides the perfect foundation for a city built surrounding a wooden man that eventually is burned.
A festival that prides itself on keeping a strict "pack it in pack it out" policy and not only requires its participants to follow strict guidelines to avoid environmental disruption but spends thousands of dollars in clean up after the event.
For more information on Burning Man go to burningman.com.
Equipment needed to Enjoy The Black Rock Desert
Daytime

Nightime

Long Stays

Light Cloths to Cover Body

Warm Cloths

Bring Plenty of Food

Sunblock

Extra Socks

More Than Plenty of Water

A Hat

Plenty of Water

Plastic Containers (for dust Protection)

Dust Mask (for sandstorms)

Tent or Shelter

Shelter or Tent

Eye Protection (for sandstorms)

Sleeping Bag

Bag, Sleeping

Plenty of Water
The Black Rock Desert is maintained throughout the year by the Bureau of Land Management and is open to the public.  Even though the area is well maintained it is remote and dangerous and all travel to the region should be well planned with emergency equipment if needed.
You should only visit the Black Rock Desert in a four wheel drive vehicle, the roads and conditions require more than most two wheel drive vehicles offer.
Playa roads should not be used during winter or early spring, if you get caught out in the playa after a rainstorm your vehicle can loss traction and you can be stuck out in the desert for hours or days before help can arrive.
Make sure that before you journey onto the desert that you have collected your camping and survival gear. Included above is a chart with camping information. Also, make sure that you have given your vehicle a quick tune-up and that you have extra tools, a jack, oil, and plenty of water.
As you drive out onto playa make sure to look behind you at your magnificent "Rooster Tail" of dust.
References
Black Rock Desert Wilderness/Bureau of Land Management.  https://www.blm.gov/visit/black-rock-desert-wilderness.
Black Rock Desert – Wikipedia.  https://en.wikipedia.org/wiki/Black_Rock_Desert
For more works like Explore Nevada: The Black Rock Desert and other topics by this author visit
Jamie Lee Hamann Author Page
Latest posts by Jamie Lee Hamann
(see all)