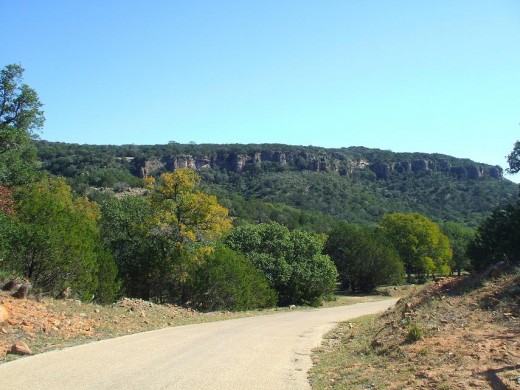 (Source: Hill Country Motorcycle Rentals, Austin, Texas @ tourbikerent.com)
'Twas many a road…I was able to travel…
And many a country dirt road…I took…made of gravel.
When the car door swings open…and you must set out on foot to see things clear-ly'…
Smells and sights open up before you…'til you see that which before…you didn't see.
The modern world adorns itself with paved roads and enclosed cars…we take for granted…
There was a time not long ago…when animal's feet or our own…moved us across the planet.
Man has come along way…in a very short time…
But the Future lies ahead…on that Mankind may still lag behind.
We must look to where we are going…Step out…and take a good look around…
If we're not welcome where we've been…We can shake the dust off…as we leave town.
Oh…I treasure the time…when my only thought was what lie ahead…
On a quiet and still road I walked…my thoughts were like the ones I dream in bed.
Nothing else mattered…Nothing could disturb…
I'd like to explain it thoroughly…if I can find the right adverb.
The sun was melting the dust…before it reached up to the clouds…from the heat…
The dry weeds around crackled in the warm breeze…the ground was hot beneath my feet…
The cricket was madly chirping at the sun…while the raven was looking for something to eat…
A copperhead was sunning his backside on the road…and slithered away…so we would not meet.
And there…right there…it occurred to me…that it is OK for the world to be serene…
Out there on a distant country road…the quietness played out an epic scene.
We talk and beat the world into our submission…
With or with out anybody else's permission.
The world must go our way…
But the world went mine…on a gravel dirt road that day.
You see…I had time to think…I had time to be thankful to just be there…
How many times along our journey…do we stop to think…or begin to care ?
Ya' know…the world kept on spinning while I was walking…and eventually reached my destination…
The world was doing its own thing…It did not have to stop for me…there was no obligation.
We can find ourselves when we aren't looking…in a place we set out to find…
But we will never make it into our future…if we forget what we left behind.
The world is a relatively simple place…So sorry to have to inform…
It has been doing its own thing…Well…since long before any of us were born.
We are along for the journey…We must sit back and enjoy the ride…
We are not here because it is all about us…Gee, hope that don't hurt your pride.
It is Ok to be human…to get down a road using our own two feet…I must say…
I love an ol' country gravel dirt road that I can walk along…on any ol' given day !
'Twas many a road I was able to travel…
And many a country dirt road…I took…made of gravel.
Rodney Atkins – Take A Back Road
"The world must go our way…
But the world went mine…on a gravel dirt road that day."
Hello…and Thanks for readin' this one! Here's to hoping that you have some time to "Stop and Smell the Roses"…Even if there aren't any to be found…while walking around…looking at the ground. Like, say along an old gravel road.
Best Regards,
Steve Walters
Or the Artist Still Known As: ManlyPoetryMan
© 2010 ManlyPoetryMan (Originally)
~~~
Steve Walters -joined TCE in the Fall of 2021. Keep an eye on his author page for many great works to come.
https://www.creativeexiles.com/author/stevew/You can also find works by Steve Walters (who uses the pen name of ManlyPoetryMan) on:  ManlyPoetryMan on HubPages. https://hubpages.com/@manlypoetrymanAnd on Manly Poetry Man's website: Home | Manly Poetry Man
Latest posts by Steve Walters
(see all)