Explore Lake Tahoe California: Tahoma
Explore Lake Tahoe California: Tahoma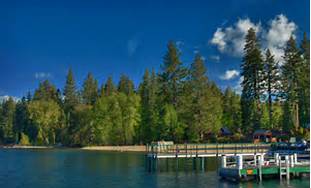 The West Shore is The Best Shore
I
Throughout our lives we are faced with many important decisions.  One of the many important decisions we face is where we wish to raise our families.  A decision that fell upon my Father when faced with the end of his military commitment, to the Navy, in San Diego.
Most Fathers realize that these decisions cannot be made without influence from Mothers and following her advice, after living in L.A. her whole life, he chose Crestline California.
Mother made it clear to him that she needed mountains and pine trees so they moved to Crestline.  This mountain, although covered with pine, is located right in the middle of San Bernadino. Both Father and Mother desperately wanted to leave the pollution to find some clean air with their mountain scenery.
II
An opportunity fell on Father's lap as a job with Ma Bell, or Mountain Bell prior to AT&T, opened in Lake Tahoe California around the early seventies.  They jumped at the chance and accepted the position.   The cost of living on Lake Tahoe in the seventies was affordable to anyone with a full time decent paying job.
With a little financial help from their parents they were able to buy a home in Tahoma California.  A house only blocks away from the awe inspiring Lake.
Tahoma, small and quite, provides some of the most beautiful scenery of the Lake along with some incredible skiing. Even though South Lake Tahoe has casinos and glamour and North Lake Tahoe has Squaw Valley and world class skiing, the locals have a saying that goes "The West Shore is the Best Shore."
A Childhood At Tahoma
I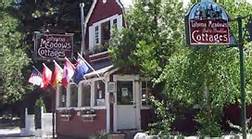 A childhood in Tahoma included snow drifts taller than most adults and pine tree forts built into underbrush.
When contemplating summer yesterday I tried to remember a definition of summer by backing up in time when the process of defining things was my primary drive. This equates to the time we lived in the town of Tahoma.
Three blocks away and down a steep street, where I would ride my skateboard at breakneck speeds, stood Lake Tahoe. Directly behind our house was a forest of Pinion Pine and Manzanita. In the forest I did most of my defining.
About seven o'clock in the morning a sprint out the front door would begin.  First grab a bowl of cereal and a glass of milk.  Breakfast is of upmost importance when it comes to a day of exploring.
II
One family of squirrels lived humbly on our front porch. They were gracious squirrels that avoided our German Shepherd Nanook's food. Observation showed them vigilantly nibbling on their grub, they had handpicked earlier, enjoying the comfort of our front porch shade.
A large blackbird, that nested in a pine tree located directly north a few paces, seemed to be master of the front porch. Throughout the day blackbird would casually walk from one end to the other stealing Nanooks food and threatening squirrels. That bird was the warrior bird.
These lessons were minor compared to lessons learned while exploring Manzanita. Manzanita required crawling on all fours where I had to push branches away with scratched hands to find my quite spot between two Pinion Pines that seemed to twist themselves up into heaven.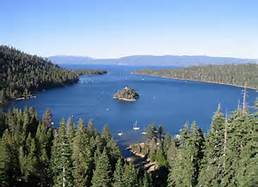 Emerald Bay
I
Since leaving South Lake Tahoe, with a fresh road coffee and a desire to see more, your ride seems to turn into a never-ending forest of pine.  Somewhere through the pine you know that Tahoe sparkles in morning light.
After what seems to be miles you begin to climb up into a steep pass where you grip the steering wheel and try to avoid looking over the side where the Lake lies below.  Soon you find yourself overlooking the most awe inspiring Bay you have ever seen.
When you head towards West Shore along the lake, on Highway 89 towards Tahoma and Tahoe City, you will pass Emerald Bay. Guaranteed you will stop your car and look over the steep cliffs that head down into a beautiful bay.
II
In 1969 Emerald Bay became a Natural National Landmark and offers two campgrounds and boat-in camping. The Bay also holds the trailheads to the Rubicon Foot Trails that lead up into D.L. Bliss State Park.
A two mile hike from Highway 89 to the bay will take a hiker through a series of steep cutbacks down to Vikingsholm. Vikingsholm is a stone castle displaying some of the finest Scandinavian architecture in the western Hemisphere.
From this castle one can hike to the beach or visit Tahoe's only island, Fannette Island. The story goes that the owner of the island built a stone auditorium to have "tea parties" with her friends. Today there are boat tours and canoe rentals that take you out to see the auditorium where one can imagine being at a legendary "tea party."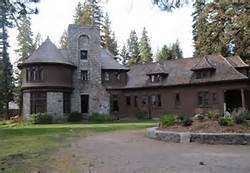 Sugar Pine Point State Park
I
Heading away from the lake a camper can find the entrance to Sugar Pine State Park.  A campground providing all services and a perfect site for family gatherings and holiday camping.
Near each campsite is a paved walking trail that leads from camping areas, the Lake, and Erhman Mansion.  A steep trail that offers not only a great workout for early morning joggers but an intense bike ride for cyclists.
Less than a minute outside Tahoma is Sugar Pine Point State Park. In the 1870's the area that surrounded Tahoma experienced clear cutting to supply logs for the Comstock Lode in Nevada.
III
One of Lake Tahoe's first residence was "General" William Phipps who bought the land, now known as Sugar Pine Point, to protect trees in the area.
A banker by the name if Isaias Hellman bought "General" William Phipps's land and built the Ehrman Mansion. Tourists can take tours of the mansion on a daily basis during the summer months.
The biggest attraction of Sugar Pine Point is hiking. Hikers can begin at General Creek Trailhead and head into the El Dorado National Forest.
First, this trail will take hikers deep into Desolation Wilderness and eventually to the Pine Crest Trail that creeps around Tahoe.  Second, this hike starts out moderate but turns into an overnight camping trail around Desolation Wilderness. Make sure to bring a pack with camping gear, food, and water.
The bike trails loop around and leave the cyclists staring up at magnificent trees. Sugar Pine Point is full of Sugar Pine, Jeffrey Pine, White Fur; and in Autumn, Black Cottonwood, and Quaking Aspen.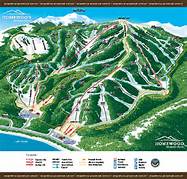 Homewood Ski Resort
I
South Lake Tahoe is home to the world renown Heavenly Valley Ski Resort with a gondola constantly carrying tourists from the casinos to the mountaintop.  North Lake Tahoe flaunts Squaw Valley Resorts which carried the Winter Olympics on its shoulders in the sixties.
The West Shore is home to community ski resorts filled with locals and tourists alike that breaks away from a large resort atmosphere and takes the skier to a smaller town.   A ski resort where the lift operator knows your name and comments on how the snow on your beard makes you look like Santa Claus or asks if the last run made your day.
II
Homewood Ski Resort is where I learned to ski at around five years old and the resort has great educational opportunities available at it's ski school.
Therefore, not only is the hill perfect for learning it offers the best view of the lake from the face. There is a perfect mixture of easy and difficult runs and enough tree skiing to make the hill an adventure you will never forget.
The mountain has a full size half pipe created every season for skiers and snowboarders alike and is known for being one of the first in Tahoe to except Snowboarding when the sport hit the Sierras.
Homewood is quiet and nestled into the trees and lift lines never get too long and the wait is never annoying.
Most skiers from out of state, or country, go to Heavenly Valley or Squaw and the smaller resorts like Homewood are perfect for a skier that is looking for a little peace.  This resort is by far my favorite ski resort in the Sierra Mountain Range.
I hope one day you can make it to Lake Tahoe California, especially Tahoma and the West Shore, to enjoy hiking around Emerald Bay or Skiing at Homewood.
Latest posts by Jamie Lee Hamann
(see all)